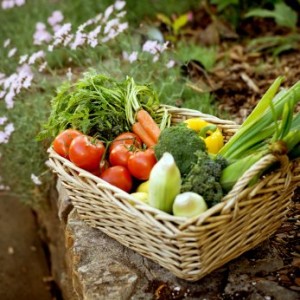 Growing a vegetable garden can be as simple as raising a few tomatoes in hanging pots on the patio or as complex as developing a new permaculture design for an entire property.
Before you grab that shovel, borrow the neighbor's rototiller and start buying up all those pretty packets of seeds with the pictures of luscious ripe vegetables on them you'll need to take a little time to work out a few key elements of your plan for a garden:
1) Design – Where and how do I grow my vegetables?
2) Soil – What do I have and how do I make it better?
3) Planting – What can I grow? What's easy? How and when do I plant it?
4) Growing your Vegetables – How do I make my veggies happy?
 Create Your Personal Vegetable Garden Experience
Choosing the path that is best for your personal needs is fairly simple, and begins by asking a few well-chosen questions to determine what you really want to do.
Here are a few to get you started:
How much time can I devote to a vegetable garden?
Should I just plant a few favorites in containers or a tabletop greens garden, or do I have time for a full-on garden?
How permanent is my living situation?
If you aren't sure how long you'll be living at your current location, consider community gardens or container gardens as an option.
If you do want to invest the time in a full-on backyard garden, then there are several options to choose from, depending on the time you have, how much space you have to devote to the garden, the amount of physical labor you can or want to perform, and the type of garden you want to grow.
Depending which type of garden you choose to grow, there will be a variable initial time (and cost) commitment to get it set up, and a commitment to maintenance, however, recent innovations in garden design and implementation have drastically reduced the amount of physical labor and time required to have a flourishing and productive garden.
You'll still need to take the time to test your soil, and develop your garden plan, but over-all you may be surprised to discover that many of the more popular gardening methods, such as square foot gardening, raised bed and sheet mulching do not require a great deal of tilling or digging, so even if your heart is in it, your back doesn't have to do all the heavy lifting of older traditional row crop gardening.
Regardless of the type of garden you choose to grow; you will want to take time and care in selecting the best location for the garden and determining exactly what you want to grow. Your choices will be determined not only by which vegetables you most enjoy, but also your climate and the length of your growing season. Many vegetables are available in early, mid, and late season varieties, allowing you to make the best selection to match your particular location. In today's world, vegetable gardens come in a vast array of sizes, variations and styles.
Heirlooms or Hybrids – You Choose
There are lots of choices in what is planted in the garden as well: heirloom or hybrid seeds, or pre-grown vegetable plants from local shops, farmer's markets or a local organic farmer are just a few options.  You can choose to raise the seedlings yourself (and perhaps market the extra plants you don't need for your own garden), or save the time and effort of raising seedlings and just purchase seedlings from your local nursery, farmer's market or farmer.
Each choice has consequences, benefits and disadvantages, and it all depends on your own reasons and goals for your garden.
Regardless of which path you choose, make sure to include a healthy selection of herbs and flowers to enhance the vitality and vigor in your vegetable garden. Consider these additions to the garden as your secret weapons to prevent disease, deter pests, and generally assist in a more highly productive vegetable yield. As an added benefit herbs and flowers provide beauty, texture, and fragrance to the garden.
Many people grow vegetables because they can grow heirloom and non-hybrid varieties and save their own seed for future use; others simply want those garden fresh tomatoes and summer squash and really don't care about seed saving.
Whatever your preference, there is a wealth of discovery to be had by engaging directly in a hands on experience of growing plants for your table; and the benefits of delicious healthy vegetables you grew yourself is definitely at the very top of that list.
Revitalizing the Human Spirit
Also well up on that list is the joy and pleasure that comes from tending to plants and being out of doors and in the peace and quiet of the garden.  There is a quiet that can come over the mind in a garden that can be hard to find in this hectic world.  And there is something about working in the garden that renews and revitalizes the human spirit.
So whether you are planning a tabletop greens garden or a half acre extravaganza to feed several households, keep in mind that it is likely you will discover that gardening is a labor of love as much as a vocation for the production of food, and as you encounter the setbacks that are inevitable whenever we engage in activities that involve other living creatures, remember that it's okay to make mistakes, and realize that some of your biggest mistakes will lead to some of your greatest successes.
Tip:  Start a vegetable garden journal as you start your journey. 
Keep note of weather, plans, plants and work done in the garden each day (or however often you get into the garden).
You will discover, over time, that this journal can become a huge asset to your gardening success and enjoyment as you look back from year to year at what worked and what didn't; what the weather did or didn't do and when. Which new experiments worked well and which not as well; which vegetable plant combinations produced bumper crops and which were less successful – each of these little observations over the growing season of the garden will build in your journal until you have a wealth of useful information you can go back through to learn and grow from your own gardening history.
While the seasons may not play out exactly the same way from year to year, the innovations and creative ideas and results of testing those ideas will leave you in possession of a very useful and relevant guide to your vegetable gardening experience.


Resources:
Organic Gardening Magazine: http://www.organicgardening.com/
Mother Earth News: http://www.motherearthnews.com/Organic-Gardening.aspx
Arizona Master Gardener Manual – The Vegetable Garden:
http://ag.arizona.edu/pubs/garden/mg/vegetable/index.html
Planting a Home Vegetable Garden – Iowa State University Extension:
http://www.extension.iastate.edu/publications/pm819.pdf
The Non-GMO Sourcebook: http://nongmosourcebook.com/